About Me
About Me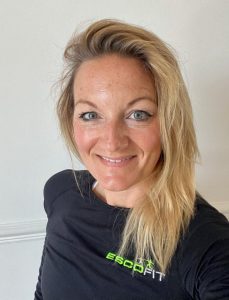 Sam Escofet
In 2010 and after nearly 13 years of Nursing, mostly within Critical Care, I realized it was becoming a huge challenge to keep a healthy work life balance.
My daughter was a toddler who didn't like to sleep and as our families lived too far away to help on the daily childcare, it was time for a change.
I decided to take a career break and train as a fitness Instructor so I could continue working but in a more flexible way.
It was initially intended as an interim measure but I have never looked back.
It all started with Zumba Fitness. At the time it was deemed the latest fitness craze. I became qualified as an ETM (Exercise to music) Instuctor and certified in Zumba Fitness before running a couple of classes in my local town. I continued to add to that over the years and I now teach Zumba Gold, Strong nation and I am certified in Zumba Toning, Zumba Sentao.
I am a fully qualified Personal Trainer and a Hatha Yoga Teacher certified in Ashtanga, Pre and Post Natal Yoga and SUP Yoga (Stand up Paddle board) Yoga. I think that it is vital to keep enhancing your skills and knowledge to keep your classes fresh and exciting!
I founded 'Escofit' in 2013 and my emphasis was always on keeping fitness fun but most importantly keeping it accessible, non-intimidating and providing a supportive safe social environment where we could all just be ourselves and have a giggle!
Escofit became Team Escofit in 2014 when Amy Goodlass joined me. She had attended many of my classes and decided that she wanted to start a career in fitness, I was looking for a way to expand my timetable and it was at that point the perfect partnership was formed . For 7 years we continued to build our little fitness community and made so many lifelong friendships along the way.
Following the Covid-19 Pandemic and after a year developing the business in the virtual world, I decided that this was the perfect opportunity to take our daughter to Spain for a Year.
My husbands family are from Catalonia and after nearly 18 months of not seeing them during Covid, we felt that our daughter needed to spend such much needed time with her Catalan side of the family and live a more outdoors lifestyle.
At the moment I continue to run classes virtually online, on demand and in person and although Amy and I continue to compliment one anothers timetable, she is trading under her new name "Goodfit" running fitness classes.
I cant wait to meet you in a virtual class or in person soon!