Insanity Live
Insanity Live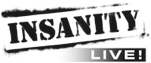 Ready to Dig Deeper®?
Perfect For
Anyone who loves HIIT, structured varied exercise and those that love a challenge.
How it works
Insanity is a total body workout that requires no equipment. You exercise using your own body weight for resistance. The program is based on a fitness method called "max interval training". In traditional interval training, you exercise at a very intense pace for a short period of time, and then rest for longer periods in between. The idea is to increase your aerobic fitness level while burning fat.
Benefits
Insanity can help build strength and tone muscles all over your body. Varied workouts within the Insanity Live class emphasise upper-body and lower-body toning. All workouts integrate exercise for your core and abdominals. The beauty of having your instructor there is that all of these exercised can be modified and tailored to suit your fitness level and your fitness can be progressed over the weeks.
** All Classes are currently being run online via Zoom.  Click here to view our timetable and book your next class **